Birdwatchers — now free on my website
(permalink)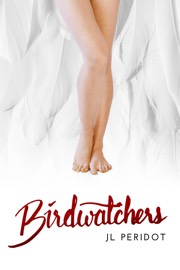 Birdwatchers, an erotic short story, is currently available as a free read on my website. Here's a little teaser:
Hands fly to cover her naked breasts, but the tempest rages on. She is helpless against it, and I watch. She rolls onto her belly, body still billowing. Her legs curl beneath her, knees to chest, and she buries her face in the blanket.

The gale becomes a breeze and fades into the distance.

She looks at me and sits up. Her body is exposed now, breasts heaving as her breath comes back to her. She keeps her eyes on me while she re-does her hair and rests the sunglasses on her head. She smiles.

"Why didn't you take a picture?" she asks. "That's what you came here for, wasn't it?"

"N… no," I say. I hold up the camera, fighting the weight of the lens. "I came to watch the birds."

She sits back and crosses her legs in front of her. She points her toes towards me, then at the sky, then back to me. She licks her lips.

"So…" Her smile deepens. "Watch the birds then."

Excerpt from Birdwatchers (2017)
You'll find the link in the Free Reads section of my website.