I remember him catching my wrist. I remember a kiss.
(permalink)
Julie couldn't help it. After her brief dalliance with the charming, carefree, married Henry Aston, he was well and truly under her skin. Mr. and Mrs. Aston were only out of town for a couple of weeks when reality sank in—little Julie Ho was just a summer fling.
Here's how it all turned out in the end. What happened when the Astons got back from their road trip. What happened after a chance meeting in a cocktail bar on the other side of town. And what happened when Henry finally introduced Julie to his wife…
Excerpt from About Her by JL Peridot:
I don't recall everything as well as I'd like. I remember the lights not working. I remember my bra hook getting caught in my hair. And I remember Henry's socks. Now, I hate the sock thing as much as the next girl, but I remember telling him to keep them on. I liked that they were a gift from his wife.

I remember looking up with him kneeling over me, my knees over his shoulders, his arms around my waist, and his face between my legs. His tongue worked sharp, soft, textured, slow, then fast in just the right place. I was drunk, I was numb and warm and scattered and helpless in his grasp. Every muscle in my body tense with anticipation. I was on the edge—right on the fucking edge—ready to go over. But then he pulled away.

"God, why—"

"Not yet."

Henry opened the window. The night breeze rolled through the room, cooling my skin. My nipples tightened from the sudden chill—I love how they look when they get that way. I hoped to see them cast on the wall, but that detail was lost in the shadows. And with a flick of a switch, those shadows went too, the only light now coming from outside, teasing the contours of Henry's taught body and magnificent cock as he stood by the bedside lamp.

He shoved the bed against the window. Effortless. This guy was stronger than he looked. When he was done, I leaned across the bed and ran my fingers down his abs. I remember him catching my wrist. I remember a kiss.
Read the rest of About Her
About Her, the long-awaited follow-up to About Henry, is available on Vocal.
Update 08/2021: You can find both About Henry and About Her in the novella release of About Henry.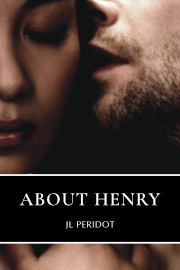 More steam down here
This post is part of a blog hop. Check out the other posts.